Fair Warrior Open Sprint Semi-Finals Preview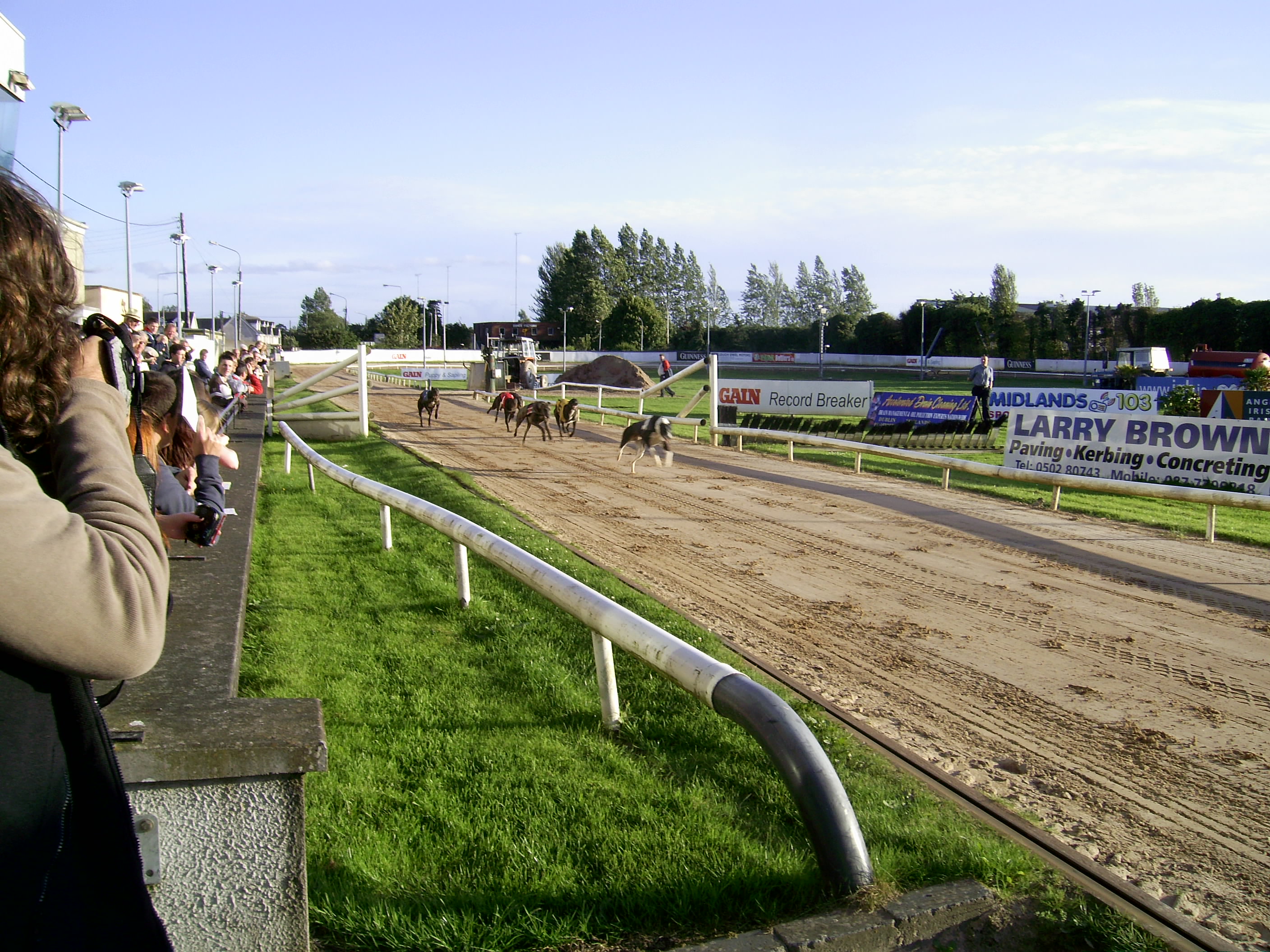 Mullingar Home Straight - But Leads to the 1st Bend for the 400yard Distance
1st Semi Final Card
Tasmanic Jaxx the only seeded runner has an ideal draw in the race, The John "Ginger" Mcgee trained bitch has won both her 1st 2 rounds in the stake, The bitch has run well from the stripes before and looks set to reach the Final .
Ballymac Best was just headed on the Line last week and is a railer, he has the advantage of being inside Holborn Mac who came on from his run in the 1st round to win , Dartrey Ron has run the track well has a tough draw with speed inside ,
2nd Semi Final
Bulmers Baby Got up on the line 2 beat Ballymac Best Last week , This though caused some frantic action in the Betting Ring after the race . The angle of the 400 yard finish always favours the dog on the outside and as its on the 3rd bend sometimes hard to tell the result.
After The heat Bookies payed out on Ballymac Best , only for Bulmers Baby to be called the winner after a late surge down the middle of the track. Did they get there moneys back or did any of the punters hear the result and head straight out the door with the money? (which has happened before)
Gortmelia Gorey has been one that has really made its name in this stake, hadnt the toughest heat last time and made no mistakes to score very impressively , and now one of the main contenders to win outright
Glenarden and Lahinch Billy Have been running on strong and may battle it out to get the other final Place
Betting
Selection
Previous odds
Current odds
Ballymac Best

3/1

Bulmers Baby

3/1

Tasmanic Jaxx

9/2

Holborn Mac

5/1

Gortmelia Gorey

6/1

Glenardan

14/1

Lahinch Billy

14/1

Prince Butler

16/1

Fahy Legend

25/1

Stunning Buddy

33/1

Dartrey Ron

33/1

Dees Prince

50/1

Each way odds » 1/4 Places 1,2,3
My 1st round Selection Bulmers Baby (12-1) is unbeaten so far and should go close Fingers Crossed !!
Final Plans